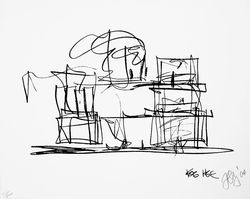 Born February 28, 1929, in Toronto, Frank Owen Gehry is one of the most inventive and pioneering architects working today. Based in Los Angeles—where he relocated with his family in 1947—he has developed a unique vocabulary that reflects both the urban vernacular and his long association with contemporary artists. In 1954, he received his undergraduate degree in architecture from the University of Southern California and in the years immediately following, worked in a number of firms including Victor Gruen Associates and Pereira and Luckman Associates.
After brief studies in urban planning at Harvard University's Graduate School of Design and a year in Paris working for André Rémondet, Gehry returned to California and opened a small office in Santa Monica in 1962. His earliest work evolved from a Modernist idiom suggesting the varied influences of such pioneers as Harwell Hamilton Harris, Richard Neutra, and Frank Lloyd Wright. His distinctive formal vocabulary developed in early residential commissions in which he explored the expressive potential of humble materials and infused the architectural envelope with a sense of movement. As his practice expanded, the scope of his commissions grew to include exhibition design, furniture, libraries, office buildings, restaurants, schools, and visual and performing arts venues.
The award of the Pritzker Architecture Prize in 1989 brought increased recognition, and the years following have been among the most productive and rewarding of Gehry's career. The introduction of sophisticated computer software in the early 1990s has facilitated the construction and engineering of complex building systems and successfully translated the gestural quality of his work from model to built form. Frank O. Gehry & Associates has grown to over 140 employees, and the geographic terrain covered by the firm's work includes the Czech Republic, France, Germany, Japan, Scotland, Spain, Switzerland, and the United States.