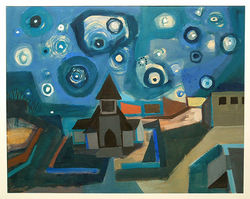 Leo Garel, born in Brooklyn in 1917, never doubted he would spend his life as an artist. "My earliest memories are of drawing, way before I started school," Garel recalled years later. "As a boy, drawing was an obsession and I was constantly with a pad and pencil."
Garel attended Parsons School of Design, then won a scholarship to the New York School of Fine and Applied Art. He also studied at the Art Students League, where his teachers were George Grosz and Vaclav Vytlacil. In the 1940s he traveled to New Mexico. In Taos, he attracted the attention of Mabel Dodge Luhan, who wrote of him: "Leo Garel is one of the most promising of these newcomers. He is a big, robust fellow and his work is all of a piece with him. He hurls mountains on top of each other, plane on plane . . . . He stands upon a high peak and shows the checkerboard of fields below and the toppling cubes all around in strong and tender pigments. It is huge, dynamic, a big eyeful, as he sweeps it onto his canvas. He has seized enormous chunks of the great neighborhood and thrown them in fistfuls."
Garel's work also caught the eye of the ailing Alfred Stieglitz before he died. Always the enterprising art dealer, Stieglitz observed, "Handsome, very handsome," after studying Garel's paintings, Mabel Dodge recalled in her book Taos and its Artists. In the 1940s and early 1950s Garel exhibited at the legendary Blue Door Gallery and at Galeria Escondida in Taos. He was included in Museum of New Mexico regional shows of that era. In 1952 Garel's focus turned east again, and he began showing at the Mortimer Levitt Gallery in New York and, beginning in 1957, at Zabriskie in New York.
A decade later, a major exhibition of 35 Garel paintings was mounted at the Cober Gallery in New York City. In the catalogue of that 1967 show the art historian, Hellmut Wohl cited the structural and philosophical resonances that he saw between Garel's paintings and those of the German Expressionist Emil Nolde and of Paul Klee, pronouncing it a shared subtlety of inflection and musicality.
In the succeeding decades Garel lived and worked in the Berkshire Mountains of Massachusetts. Encouraged by his friendship with the psychoanalyst Erik H. Erikson, who himself had worked as a painter, Garel was a pioneer and an innovator in art psychotherapy at the Austen Riggs Center in Stockbridge, MA. Garel taught painting and continued to exhibit actively until his death in 1999.
Leo Garel's work is in public collections including the National Museum of American Art at the Smithsonian, National Academy of Design in New York, the Harwood Museum in Taos, New York University Art Museum, Norfolk Art Museum, Roswell Art Museum, Museum of New Mexico, and in corporate collections such as Chase Manhattan Bank and Marine Midland Bank.