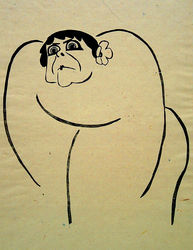 American caricaturist Alfred Frueh was raised as a farmer but began his career drawing for newspapers in 1904. Frueh studied in Paris from 1910 to 1924, at which time he became friendly with Braque and Matisse. Also during this period, his sketches were appearing daily in New York World.
Alfred Steiglitz arranged Frueh's first exhibition in 1912. Stage Folk, a folio containing many of Frueh's portraits was published in 1922. The forty-one caricatures represent work from 1907-1922. The small publishing house of Lieber and Lewis produced the volume, which sold in 1922 for $10.00. The linoleum blocks were cut by Frueh and printed on Japan paper which was mounted on a larger 18 x 12 inch backing paper. The edition was limited to 500 copies.
He was a regular contributor to New Yorker magazine from its beginning in 1925 until his retirement at age 82. He created one of the longest continuous records of caricature in the annals of American theater.