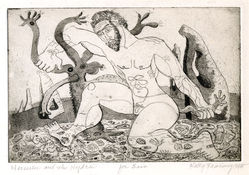 Born in Arkansas in 1918, Kelly Fearing studied art at Louisiana Tech University and Columbia University, where he earned a master's degree in 1950. Fearing came to Fort Worth, Texas in 1943 and joined a group of artists active between 1945 and 1955 known as the "Fort Worth Circle." This group was responsible to a large extent for introducing modernist art and ideas to Texas.
Though not defined by a specific aesthetic, the Fort Worth Circle was important for moving beyond the realism and agrarian subject matter of American Regionalism, which dominated Texas art in the 1930s and 1940s. Fearing and his Fort Worth cohorts were the first artists in the state to respond in a significant way to European artists such as Picasso, Braque, Klee, Kandinsky, Modigliani, Ernst, Klee, Miro, and Dubuffet.
After teaching from 1945-47 at Texas Wesleyan, Fearing assumed the Ashbel Smith Professorship of Art in the Department of Art and Art History at the University of Texas at Austin, where he taught for forty years. A noted art educator, Fearing co-authored several multi-volume art education textbooks from 1960 through the 1980s. He is now retired Professor Emeritus.