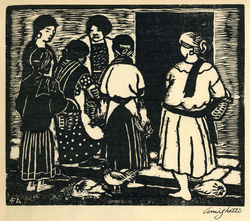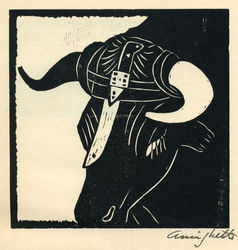 Francisco Amighetti was born June 1, 1907, in San Jose, Costa Rica. He attended the main high school for boys in San Jose called the Liceo de Coasta Rica. Here, his artistic talent became apparent, and his art teachers encouraged him to enroll in the Academia de Bella Artes. At the institute, directed by Spanish painter Tomas Povedano, he studied drawing and painting, and soon began to gain recognition through his cartoons published in "Repertorio Americano".
In the 1930s he and other artists sucb as Zuniga, de la Cruz, Zeledon and Chacon all rebelled against their traditional artistic training, abandoning classical European schools for revolutionary ones such as Surrealism and Abstract Expressionism. They began exploring the printmaking techniques of leading artists in these fields and produced a portfolio of xylographs by Costa Rican artists, the first of its kind, in 1934.
Though artistic opportunities were scarce in Costa Rica, Amighetti chose to remain there, unlike many of his contemporaries. He continued to perfect his technique in painting, drawing, and printmaking, eventually traveling throughout Europe, Asia, and America to show his work, which by the 1950s had gained international attention. Amighetti continued to work until his death in 1998.