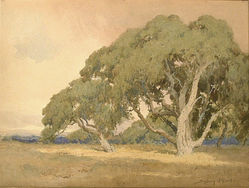 Sydney Janis Yard was born 1855, in Rockford, Illinois where he began his art studies under George J. Robertson. He moved to New York where he continued his studieds and later studied in London where he mastered English watercolor techniques under the instruction of Royal Academician Sutton Palmer.
In the 1880's Yard moved to California where he ran several photography studios in San Jose and Palo Alto with artist friend Andrew Putnam Hill. During this time he exhibited several paintings at the San Francisco Art Association. In 1904 Yard left San Jose and began splitting his time between studios in San Francisco and Carmel-By-The-Sea settling permanently in Carmel in 1906 where he published a newspaper, a major source of his income.
While living in Carmel he exhibited frequently at The Del Monte Gallery, as well as at several galleries in the San Francisco Bay Area until his death in Carmel in 1909. Although Yard painted in oils, he is best known for his watercolor landscapes of inland trees, gardens, and coastal scenes.
Source: Scott A. Shields, Artists at Continent's End: The Monterey Peninsula Art Colony, 1875-1907