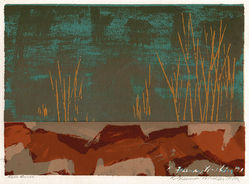 Born in Chicago on July 16, 1905, R. Freeman Worthley (he preferred to use his middle name, rather than Robert) spent his youth on a farm in San Diego, California. In WW II he saw action as a member of the U.S. Pacific Fleet. Anxious to follow his passion, he resigned from the Navy and gained a full scholarship to the Jepson Art Institute in Los Angeles.
He received his Master of Fine Arts from Otis Art Institute where he learned etching, engraving, screen-printing and painting. He had an interest in Abstract Expressionism and loved to mix forms and techniques. His work covered a wide spectrum of expression, from his series of rhythmic black & white etchings of workers during the Depression to the gestural, abstract serigraphs of the 1950's.
Worthley married fellow printmaker Ginger Osgood (1918 – 2000) and together they founded the Western Serigraph Institute. He served as its President for 20 years and promoted over 400 circulating exhibitions.
Worthley was appointed by the Governor to be a member of the Steering Committee which formed the California Arts Commission. He was and was president of the Arts Council of the Conejo Valley and of the Thousand Oaks Art Association.