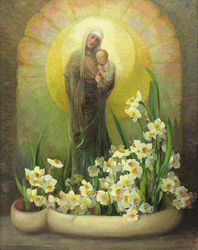 Nell Gertrude Walker Warner was born in Richardson County, Nebraska on April 1, 1891. She attended school in Colorado Springs, CO and graduated from Lexington College in Missouri in 1910. She moved to Los Angeles, California where she graduated from the Los Angeles School of Art & Design in 1916. She got a job painting backdrops for silent films and teaching art.
After her marriage to Dr. Bion S. Warner in 1920, she traveled in Europe and then spent three summers in Cape Ann (MA) where she painted many harbor scenes in Gloucester and Rockport.; however, La Canada, CA remained her home.
During the 1920s she was art curator of the Tuesday Afternoon Club (LA) and studied locally with Nicolai Fechin, Fritz Werner (1923-25), and Paul Lauritz. In 1945 she married Emil Shostrom and, five years later, moved north to Carmel where she remained until her death on November 30, 1970.