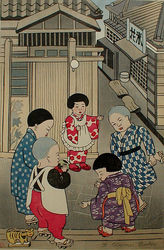 Frances Baker Blakemore was known throughout the world as author, collector, philanthropist and curator. As Frances Wismer, she was one of the early members of the Northwest Printmakers organization, exhibiting frequently and winning several prizes for her relief prints.
In 1935, she went to Japan where she held several positions in various fields and drew weekly sketches for Japan News Week. She also executed murals and worked in the commercial art field. Upon her arrival in Japan, she began to incorporate scenes of everyday life in her new environment , depicting the working people in many of her prints which she continued to send back to Seattle for exhibition. These prints are very unique adaptations of Eastern traditions as seen through western technique and stylization.
During the war, the artist lived in Honolulu where she produced illustrations for several books and continued her work in the commercial art field. When she returned to Japan after the war, she continued her art career and eventually married Thomas Blakemore, an attorney who would go on to become an important legal figure in relations between the United States and Japan. Frances Blakemore became a champion of contemporary Japanese printmakers and opened a gallery in Tokyo to promote their work.
She was influential in the development of many of these artists' careers and wrote the definitive biographical source on the subject, "Who's Who In Modern Japanese Prints". Her work has been exhibited internationally and is in the permanent collections of the Henry Art Gallery and the Seattle Art Museum. Frances Blakemore returned to Seattle in the mid-1980s and died there in 1997.