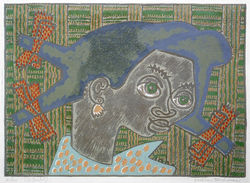 Kathleen Blackshear was born and raised in Navasota, Texas and began art lessons at age twelve. In 1917, she graduated from Baylor University in Waco, and then she went to New York to study at the Art Students League. Her teachers were Gutzon Borglum, George Bridgman, and Frank Vincent DuMond. In 1918, she moved to Los Angeles, where she worked as a commercial artist and telephone operator. After living briefly in Navasota, she attended the Art Institute of Chicago between 1924 and 1927.
A teacher of art history at the Art Institute of Chicago from 1926 to 1961, Blackshear was active in the art community there and in Navasota, Texas her birth and death place. She lectured at Witte Museum and School of McNey Art Institute in San Antonio, and at an annual series for members of the Museum of Fine Arts in Houston. In 1968, she was named Professor Emeritus at the Art Institute of Chicago. As a painter, graphic artist, and ceramist, she created work that included small town genre scenes and studies of African-Americans. Much influenced by French painter Paul Cezanne, some of her painting is focused on Fauve-like color and flat, two dimensionality.
One of her early teachers was art historian Helen Gardner, who stimulated Blackshear's interest in Asian and African art subjects. For Gardner, she illustrated two revised editions of her textbooks, "Art Through the Ages" (1926) and "Understanding the Arts" (1932). She also did two dioramas for the 1933 Century of Progress Exposition in Chicago, and illustrated "Art Has Many Faces" by Katherine Kuh. She briefly maintained a studio in Houston and spent many summers at her home in Navasota, and retired there in 1961. She also did sketching in Arizona, New Mexico, and Mexico.
Source: Phil Kovinick and Marian Yoshiki-Kovinick, "An Encyclopedia of Women Artists of the American West"