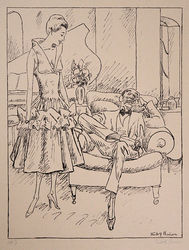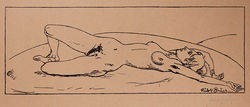 Rudolf Bauer was born in 1889, in Lindenwald, Germany-Poland. The son of a wealthy engineer, Bauer became an essential part of the avant-garde movement and the birth of non-objective art in the early 1920's. Bauer began his studies at the Academy of Fine Arts in Berlin in 1905, where he learned the fundamentals and produced beautifully stylized figurative drawings.
In 1912, Bauer met Herwarth Walden, a promoter of the avant-garde movement and founder of Der Sturm Art Gallery. Bauer became a member of Der Sturm, and was represented in group exhibitions along with Kandinsky, Picasso, Chagall, Klee et al. By 1922, Bauer had participated in 80 Der Sturm exhibitions in Belgium, Denmark, Great Britain, Italy, et al. In 1917, Bauer had his first one-man show at Der Sturm Gallery, exhibiting 120 works. By 1921, with his many one-man and group exhibitions, and his significant publications of his theories on art, Bauer became Germany's leading abstract expressionist painter. In 1929, Bauer founded his own private museum, Das Geistreich-Bauer (The Realm of the Spirit).
In 1933, Hitler became Chancellor of the German Republic and with that modern art was branded as "sub-human". Walden closed Der Sturm and fled Germany. The purge of modern artists and curators began, but at the same time Bauer was having his work exhibited at the new Museum of Modern Art in New York City. Despite Hitler's proclamations of the "degeneracy" of modern art, Bauer continued his mission, the free expression in art, writing dictums and creating art.
Meanwhile, Solomon R. Guggenheim, the famous American philanthropist, had been acquiring Bauer's work; so many pieces in fact that that he could no long fit his work within the confines of his residential suite at the Plaza Hotel in New York. In 1936, Guggenheim decided to exhibit his entire collection of Bauer's work in one venue, at the Gibbes Memorial Art Gallery in Charleston, SC. Later that year, the famous Jeu de Paume, a division of the Louvre, in Paris, honored Bauer with a one-man exhibition. As a result of the show, the Louvre purchased one of Bauer's oil paintings.
Upon his return from the show at Jeu de Paume, and despite the fact he was not Jewish, Bauer was arrested and sent to a concentration camp. Filippo Marinetti, a theoretician of Italian futurists and an admirer of Bauer's work, was able to get Bauer released and get a visa so Bauer could immigrate to the United States. Upon his arrival in America, Guggenheim offered Bauer a contract in which Bauer was to paint exclusively for the Guggenheim Foundation. The restrictive nature of the contract led to unpleasant litigation, and probably contributed to the decline of Bauer's productivity.
In the years that followed Bauer married, but his relationship with his biggest supporter, Guggenheim, waned. Bauer died in 1953. In 1969, the Galerie Gmurzyska in Cologne, Germany, held a one-man exhibition, Rudolph Bauer 1889-1953, followed by others in London, New York and Milan, which has reestablished Bauer's significant position in the history of modern art.