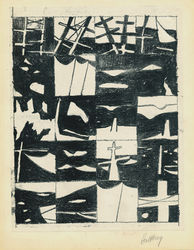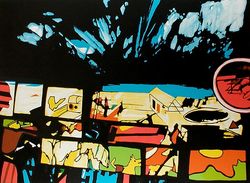 John Hultberg, born in Berkeley, California in 1922 is considered an abstract realist. He studied at California State College between 1939 and 1943, and later at the California School of Fine Arts with Clay Spohn, Richard Diebenkorn, David Park, Clyfford Still and Mark Rothko. He articulates strong forms and design balanced by forceful use of color.
He began to draw and paint as a child and used oils from the age of fourteen. In 1943 he received his Bachelor of Arts degree from Fresno College, California, participating in shows soon after his tour of duty with the military, and attended the Art Students League of New York in 1949 - 1951. He lived an participated in show in Paris in 1954.
Hultberg's fourth one man show took place in New York in 1958. He has also had one man shows in Paris and elsewhere in addition to being represented in local and national exhibitions in America and abroad. He did illustrations for an article on the Newport News which appeared in "Fortune" magazine in April 1957.
Prizes and awards include a prize for watercolor in San francisco in 1948; Albert Bender fellowship the following year, and in 1955 first prize for oils at the Corcoran biennial show, a first prize in an exhibition for artist under 35, and honorable mention At the Carnegie International exhibition. He received a Guggenheim fellowship in 1956. The year 1957 brought a Hallmark award. In 1959 Hultberg had exhibitions in Paris and Milan, Italy, as well as shows at the Swedish Historical Museum, Philadelphia, and several shows at dealer in Chicago and New York. 1960 saw One Man shows at the Musee des Beaux Arts, Brussels, Belgium; Phoenix (Arizona) Art Center, and Colorado Springs ( Colorado) Art Center.
John Hulberg's works are in the collections of the Metropolitan Museum of Art, Whitney Museum of American Art, and Museum of Modern Art, New York City; Albright Art Gallery in Buffalo, New York; Krannert Art Museum, University of Illinois, and the University of Arizona