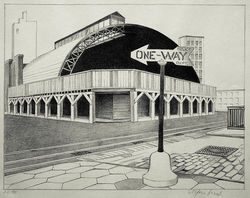 Stefan Hirsch, a modern artist closely aligned with the Precisionists, was born in 1899 in Nurnberg, Germany, to American parents. Growing up in Europe, he frequently visited museums and galleries, where he was introduced to the Old Masters and also became familiar with the innovations of contemporary painters. After studying law and art at the University of Zurich in Switzerland, Hirsch settled in New York in 1919. During the 1920s, he painted images of industrial subjects that show an attention to detail, clean, dry outlines, and harmonious colors. While his highly structured early works reveal his debt to Cezanne, Hirsch favored the urban rather than the natural landscape.

Like Demuth and Sheeler, Hirsch was attracted to the man made world, the American machine aesthetic; his works typically depict the skyline of Lower Manhattan in a Precisionist-influenced, hard-edged geometric style. When Duncan Phillips's included works by Hirsch in his 1926 exhibition, the collector stated: 'The steady progress of young Stefan Hirsch may be followed here through influences to invention. The Farmyard is quaintly seen in its tempera colors "a la Fra Angelico." The Mill Town is as infallibly decorative as a Japanese print and yet oh how American! The canvas entitled New York is a symbolical decoration—a concept of the great city rearing its fabulous towers and its walls without windows above the menace of a black river under the purity of a pellucid sky. The grim battlements of Industry are all beautiful in a strange harmony of subtly orchestrated tones.'

Throughout the 1920s Hirsch's works won wide acclaim, and he continued to paint while experimenting with printmaking, various subjects, and styles. He exhibited frequently and his work was collected by many prestigious American museums. In 1929, he traveled to Mexico, where he befriended muralists David Siqueiros and Diego Rivera. Their influence can be seen in Hirsch's Social Realist paintings of the 1930s, works that increasingly became more painterly and luminous. He executed a series of murals in this vein for Federal buildings.

During the 1930s and 1940s he focused his energies on teaching, notably at Bennington College in Vermont (1934-1940) and the Art Students League (1940-1946). In 1942 he joined the faculty at Bard College, where he was chairman of the Art Department for seventeen years before he retired in 1961. Hirsch—painter, printmaker, and educator—died in New York in 1964.