Madonna and Child by Ilonka Karasz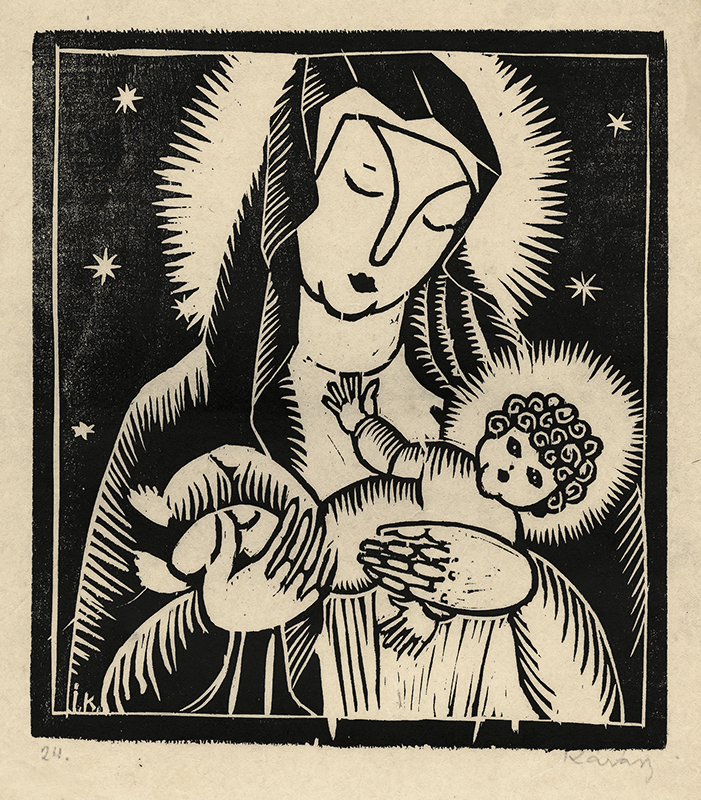 Madonna and Child
Ilonka Karasz
Please call us at 707-546-7352 to purchase this item.
Title
Artist
Year
c. 1925
Technique
woodcut
Image Size
9 1/8 x 8 1/8" image size
Signature
pencil, lower right
Edition Size
numbered 24 from around 33 impressions
Annotations
numbered 24 from a total edition of around 33
Reference
Paper
fibrous, oatmeal laid
State
published
Publisher
artist
Inventory ID
QUHI106
Price
$600.00
Description
The multi-talented artist Ilonka Karasz was born in Budapest in 1896 and attended the Wiener Werkstatte-inspired Hungarian Royal Academy of Art and Crafts as a teen with her sister, noted designer Mariska Karasz.
Karasz counted among her accomplishments an amazing 186 covers for the New Yorker, beginning in inaugural year with the sixth cover in April of 1925 and continuing into the 1970s. A designer, teacher, author, and craftswoman she was also an accomplished printmaker and painter.
This woodcut, "Madonna and Child", was done in an unstated small edition around 1920. Despite her avant-garde ways she always had a deep spiritual side which sometimes was reflected in her work. This image may have been done to illustrate a publication.
Please call us at 707-546-7352 to purchase this item.