Caution, High Trailer by Peter Baczek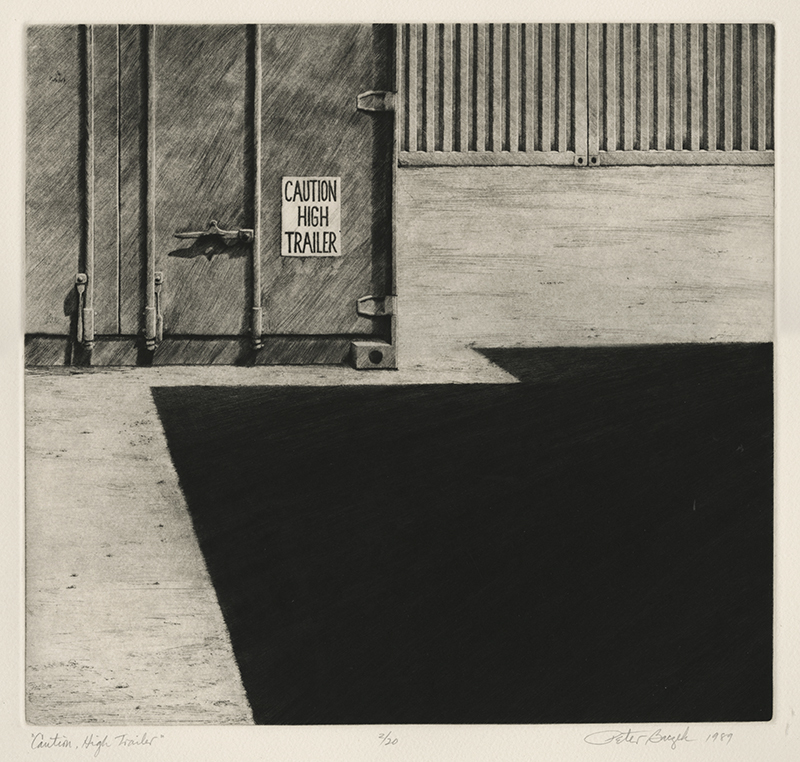 Caution, High Trailer
Peter Baczek
Please call us at 707-546-7352 to purchase this item.
Title
Artist
Year
1989
Technique
drypoint
Image Size
12 15/16 x 13 7/8" image size
Signature
pencil, lower right
Edition Size
2 of 20
Annotations
pencil titled, dated, and editioned; artist's chop in lower right
Reference
Paper
cream Arches Cover wove
State
published
Publisher
artist
Inventory ID
PEBA104
Price
$500.00
Description
Baczek masters the art of powerful simplicity in this depiction of a quiet shipping yard whose sunlit containers are juxtaposed by the solid, creeping black shadow cast by late afternoon light. Baczek's eye travels along the lines of the abandoned shipping trailers and the equally rigid lines of the shadows they cast. As the viewer casts about for signs of civilization in this composition of stillness, one possible clue is suggested by a simple sign, a reminder of semis, open highways, and the winds of travel: "CAUTION - HIGH TRAILER".
Baczek's work often focuses on landmarks of civilization without the human element. City streets after closing time; a rarely-traversed rural road; the hidden courtyard of a Southwestern abode -- all with a quietly dramatic quality that encourages the viewer to see these man-made structures as something less architectural and more akin to portraits.
Please call us at 707-546-7352 to purchase this item.