Three Fruits by Isabelle Proust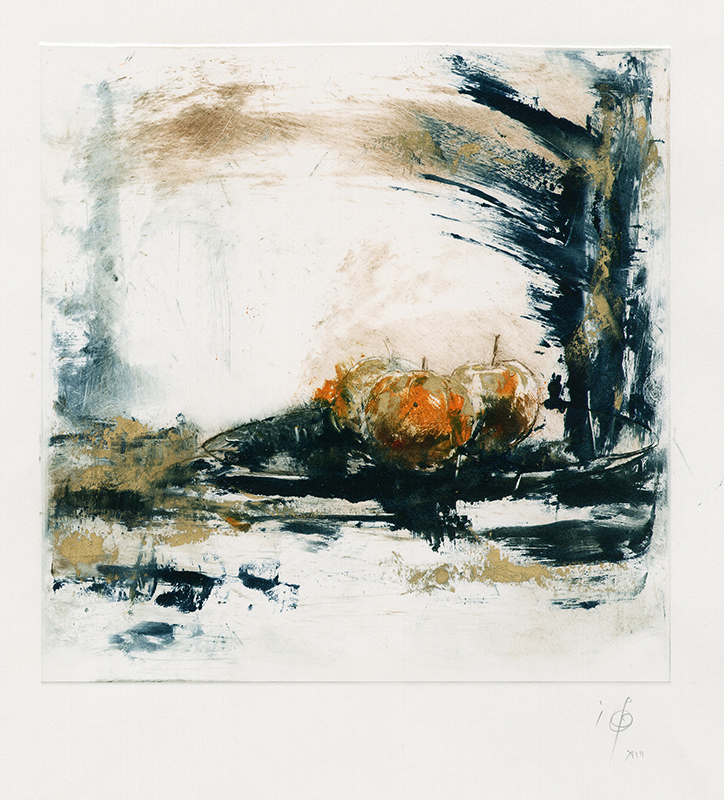 Three Fruits
Isabelle Proust
Please call us at 707-546-7352 to purchase this item.
Title
Artist
Year
2013
Technique
drypoint and color monotype
Image Size
8 1/4 x 8 1/4" platemark
Signature
pencil signed with the artist's cypher in lower right
Edition Size
unique proof with gold ink
Annotations
dated XIII in pencil beneath artist's cypher; artist's name and the title in pencil on the verso, margin
Reference
Paper
antique-white wove
State
published
Publisher
artist
Inventory ID
ISPR108
Price
$275.00
Description
French-born Isabelle Proust was trained as a photographer and developed an interest in European frescos, which inspired her imagery in other media.
"Three Fruits" merges two media to create her unique color prints. Starting with an intaglio process, drypoint, she sketches a repeatable image on the matrix. When printing the impression she hand paints the surface uniquely as a monoprint.
This style complements her subject matter, which often references dreams and ancient histories to create layered, delicate imagery.
Please call us at 707-546-7352 to purchase this item.