Barques a Bruges by Frank Brangwyn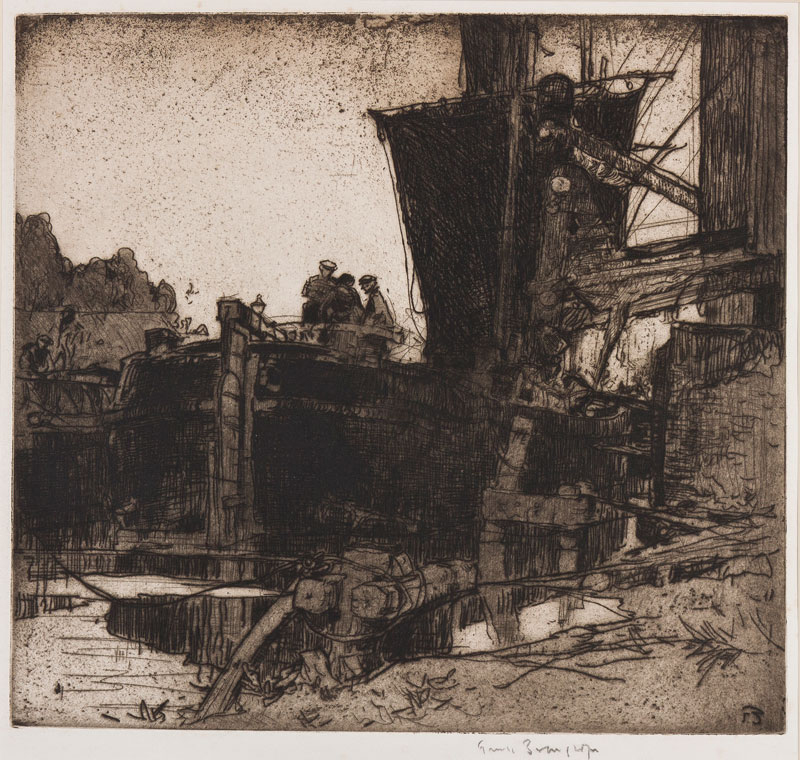 Barques a Bruges
Frank Brangwyn
Please call us at 707-546-7352 to purchase this item.
Title
Artist
Year
1906
Technique
zinc plate etching
Image Size
13 7/8 x 14 15/16" platemark
Signature
pencil, lower right; initialled in plate, lower right
Edition Size
100
Annotations
initialed in the plate in lower right
Reference
Gaunt 60, Saint Mary's College cat. no. 11
Paper
ivory laid with partial watermark VA
State
published
Publisher
artist
Inventory ID
CAAL196
Price
$850.00
Description
"Barques a Bruges" (Barges, Bruge) is Brangwyn's 60th etching (he did over 330 images), done in 1906. The barge is drawn up against a primitive corn elevator at a dock on a canal in Bruges, Belgium. The artist used a little brown in the ink to give the composition a warmth. He did the large work (for the time) on a zinc plate. The subject was etched on the spot.
This work is from the estate of the collector, Roger Epperson. It was exhibited in the 2012 tribute exhibition "The Nature of Collecting. The Early 20th Century Fine Art Collection of Roger Epperson" mounted at Saint Mary's College Museum of Art.
Please call us at 707-546-7352 to purchase this item.