The Wading Flamingos by Aleksander Laszenko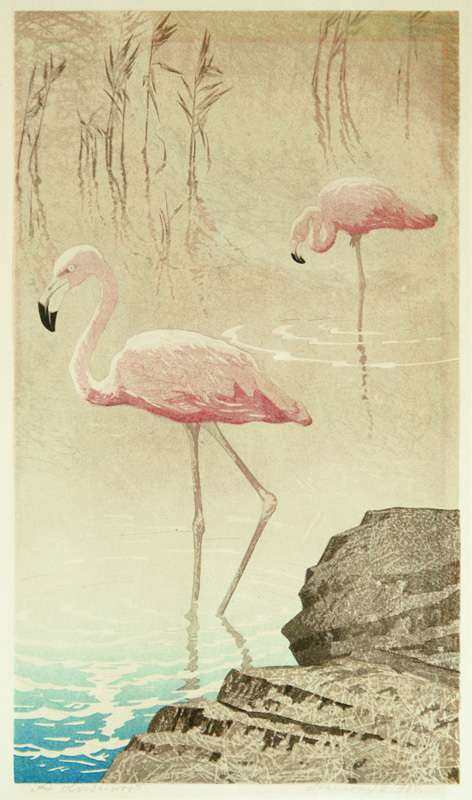 The Wading Flamingos
Aleksander Laszenko
Please call us at 707-546-7352 to purchase this item.
Title
Artist
Year
1934
Technique
color woodcut
Image Size
16 5/8 x 9 5/8" image
Signature
pencil signed, lower left
Edition Size
not stated
Annotations
pencil: drzeworyt (woodcut) 1934 in lower right
Reference
Paper
ivory wove
State
published
Publisher
Inventory ID
CAAL148
Price
$750.00
Description
Polish artist Aleksander Laszenko was fascinated by the landscapes, people, animals - especially birds - he came across on his extensive travels throughout Africa, the Middle East, and India. As well, "Wading Flamingos" captures his particular skill at depicting the sunlight, seen here falling on the backs of the tall birds and illuminating the shallow turquoise waters in which they forage for food.
There are four flamingo species in the Americas and two in the Old World. These pink birds can be found in warm, watery regions on many continents, and they prefer environments such as estuaries and saline or alkaline lakes; they thrive on extensive mudflats where they breed and feed. Their bent beaks allow them to suck up water and mud to get to their food sources of tiny organisms. A filter-like structure within their beaks removes food before the water and mud are expelled.
Please call us at 707-546-7352 to purchase this item.