Torrey Pine by Gustave Baumann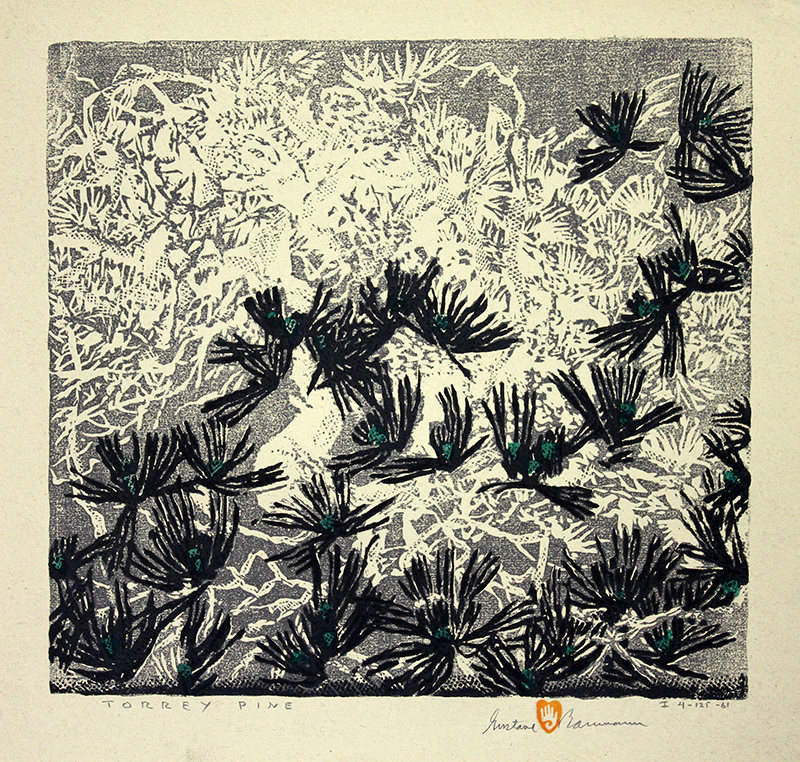 Torrey Pine
Gustave Baumann
Please call us at 707-546-7352 to purchase this item.
Title
Artist
Year
1961
Technique
color woodcut
Image Size
12 x 12 7/8" image
Signature
pencil, lower right
Edition Size
I 4-125
Annotations
titled, lower left; dated after edition number
Reference
Chamberlain 189; Baumann 149
Paper
cream Beckett wove
State
published
Publisher
artist
Inventory ID
AB635
Price
$5,500.00
Description
"Torrey Pine" was one of the last two editioned woodcuts produced by Baumann. Despite being 80 years old when he carved the three blocks for this color woodcut, the imagery shows his mastery of his techniques. The gray background block is intricately carved to allow negative space to shape the open-crowned pine tree and its needles. Black and blue blocks combine to add decorative clusters of pine needles and cones in the foreground. The trees are ornamental by nature but Baumann's rendering created one of his most elegant woodcuts.
Baumann made seven auto trips to California over the years, camping in Laguna Beach and traveling up and down the coast. The result of these excursions was twelve color woodcut, of which "Torrey Pine" is one.
The Torrey pine is an endangered species (only around 100 trees survive) that only grows in Torrey Pines State Natural Reserve and on Santa Rosa Island in northern San Diego, California. The cones are stout and heavy, typically between 3 and 6 inches long and broad, and contain large, hard-shelled, but edible, pine nuts.
Please call us at 707-546-7352 to purchase this item.