Rio Pecos by Gustave Baumann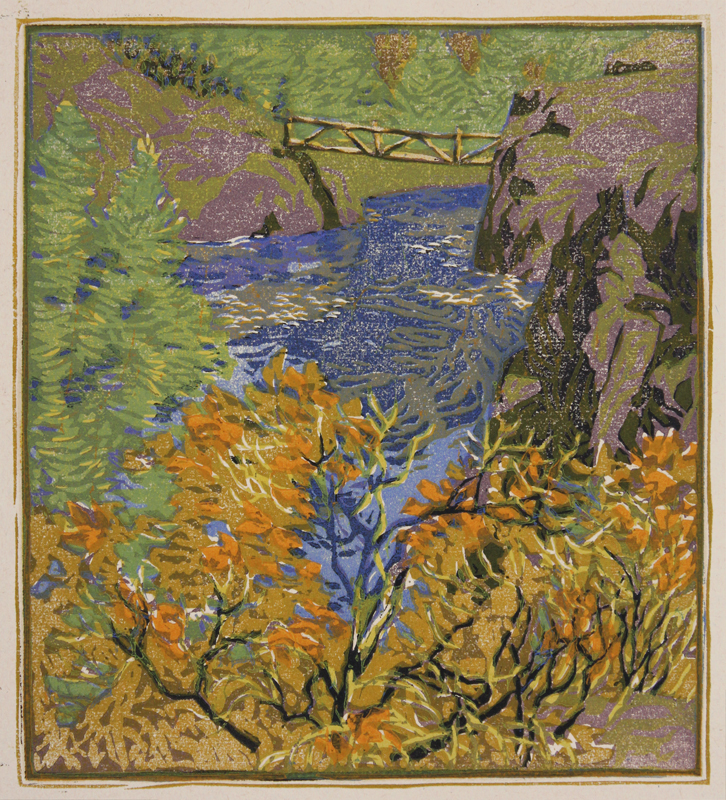 Rio Pecos
Gustave Baumann
Please call us at 707-546-7352 to purchase this item.
Title
Artist
Year
1920
Technique
color woodcut
Image Size
10 13/16 x 9 3/4" image
Signature
unsigned
Edition Size
unsigned proof
Annotations
Reference
Chamberlain 71; Baumann 59
Paper
cream Zanders laid with Bergisch Gladbach watermark
State
Publisher
artist
Inventory ID
AB4019
Price
$5,000.00
Description
Notes Chamberlain on page 247 of In a Modern Rendering: The Color Woodcuts of Gustave Baumann, 'Pecos River is the fifth title listed under the heading Upper Pecos Valley on Baumann's 1928 letterpress inventory of his color woodcuts. The Rio Pecos originates high in the Pecos Wilderness area of the Sangre de Cristo mountain Range north of Santa Fe. The Pecos Wilderness, encompassing more than 200,000 acres, is a mixture of meadows, stands of spruce and conifer trees, and rugged mountain peaks. Wildlife includes black bear, elk, and big horn sheep. The Pecos flows for 926 miles before it empties into the Rio Grande, and it offers the sportsman deep pools and ideal settings for fly-fishing.'
Please call us at 707-546-7352 to purchase this item.