(Working wool, Patzcuaro, Mexico) by Francisco Luna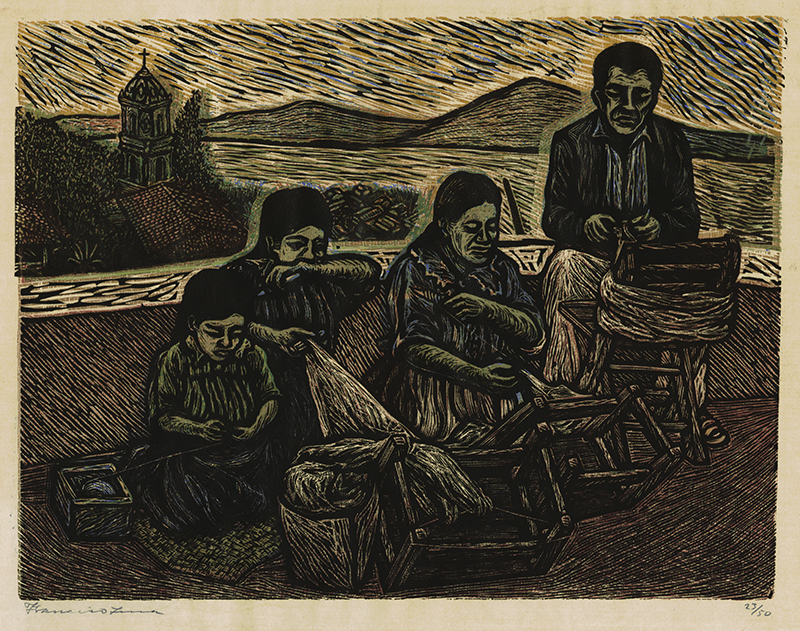 (Working wool, Patzcuaro, Mexico)
Francisco Luna
Please call us at 707-546-7352 to purchase this item.
Title
(Working wool, Patzcuaro, Mexico)
Artist
Year
c. 1960
Technique
color linocut
Image Size
10 1/2 x 13 3/4" image size
Signature
pencil, lower left
Edition Size
23 of 50
Annotations
pencil editioned, lower right
Reference
Paper
antique-white wove with unidentified watermark
State
published
Publisher
Published by Taller de Gráfica Popular, Mexico City.
Inventory ID
23138
Price
$400.00
Description
Taller de Grafica Popular printmaker Francisco Luna did this color linocut around 1960. It depicts a family of four on a rooftop apparently, hand working wool into yarn, using chairs tipped upside down as anchors. The artist adds subtle greens, reds, and blue blocks for color and depth.
Over the wall, in the background is the city of Patzcuaro, Michoacan Mexico where Luna taught art at the UNESCO and CREFAL Center, a regional center for adult education for Latin America and the Caribbean. The steeple and cross of the 16th century Templo Del Sagario are shown rising above the rooftops.
Please call us at 707-546-7352 to purchase this item.