Prag: Alte Schlosstiege (Prague: Old Castle Stairs) by Max Pollak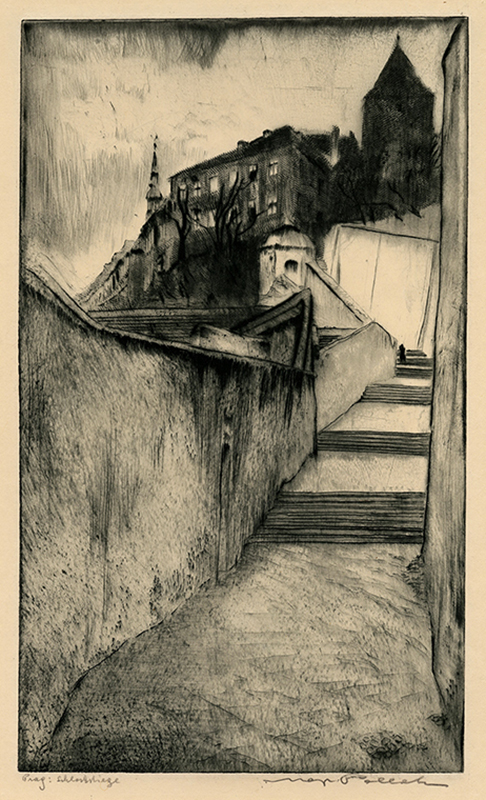 Prag: Alte Schlosstiege (Prague: Old Castle Stairs)
Max Pollak
Please call us at 707-546-7352 to purchase this item.
Title
Prag: Alte Schlosstiege (Prague: Old Castle Stairs)
Artist
Year
c. 1910
Technique
softground etching, roulette, and drypoint in blue-black ink
Image Size
11 x 6 1/2" platemark
Signature
pencil, lower right
Edition Size
not stated; edition presumed under 25
Annotations
pencil titled, lower left; red Friedl Pollak collection stamp in lower left sheet corner; stamped "Made in Austria" on verso
Reference
Paper
delicate cream wove
State
published
Publisher
artist
Inventory ID
22699
Price
$400.00
Description
This early Max Pollak intaglio depicted is the staircase leading to the East Gate of the Hradcany Castle complex in his hometown of Prague, Czechoslovakia around 1910. The viewer stands at the bottom of the stairs looking up to the castle in the distance. Just before the stairs make a turn the artist adds a small figure, partly to give a sense of scale to the composition.
The Hradcany Castle complex was built in the 9th century and is one of the largest in the world, around 1870 feet in length and 430 feet in width and contains St. Vitus Cathedral. The 121 steps lead up to the Fürstenberg Gardens which overlooks the city of Prague.
Please call us at 707-546-7352 to purchase this item.