New York, East Side: Pike Street by Max Pollak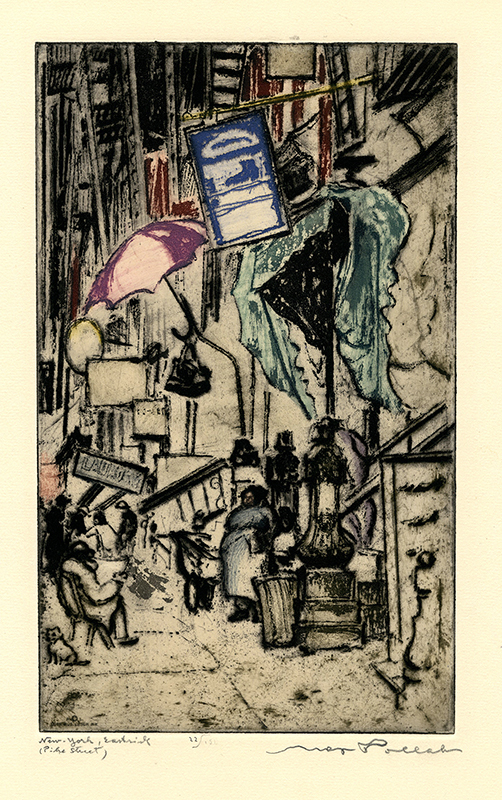 New York, East Side: Pike Street
Max Pollak
Please call us at 707-546-7352 to purchase this item.
Title
New York, East Side: Pike Street
Artist
Year
1929
Technique
color etching & aquatint
Image Size
11 x 6 5/8" platemark
Signature
pencil, lower right
Edition Size
22 of 150
Annotations
titled, lower left; bears the red stamp F.P.C. for Friedl Pollak Collection; stamped verso "Made in Austria"; copyright Corp. Rud Lesch NY in lower left corner of image
Reference
Triton cat. 54; No. 26 on the checklist of titles included in Pollak's exhibition at the University of California, April 3 - May 15, 1949
Paper
ivory laid Van Gelder watermarked paper
State
published
Publisher
Rudolph Lesch, NY
Inventory ID
22478
Price
$750.00
Description
After moving to America from Vienna Max Pollak was commissioned by author Theodore Dreiser to do a series of eight color etchings of New York which were then reproduced in his book "My City", published in 1929. This color etching and aquatint was done after the book was published, in an anticipated edition of 150. On October 29 of 1929 the stock market crashed and the editions were never finished.
Allen Street in Lower Manhattan runs through Chinatown and the Lower East Side. South of Division Street, it is known as "Pike Street". This vignette, "New York, Eastside Pike Street", suggests a narrow street lined with tenement buildings housing families and their businesses. There is a LAUNDRY sign above the head of a seated man reading his newspaper on the sidewalk with his dog nearby. Today Pike Street has been widened and much improved with a median park.
Please call us at 707-546-7352 to purchase this item.