(Transylvanian town) - from the portfolio Erdelyi Album - Tizenkét eredeti fametszet (Transylvania Album - Twelve original woodcuts) by Ferenc Bordás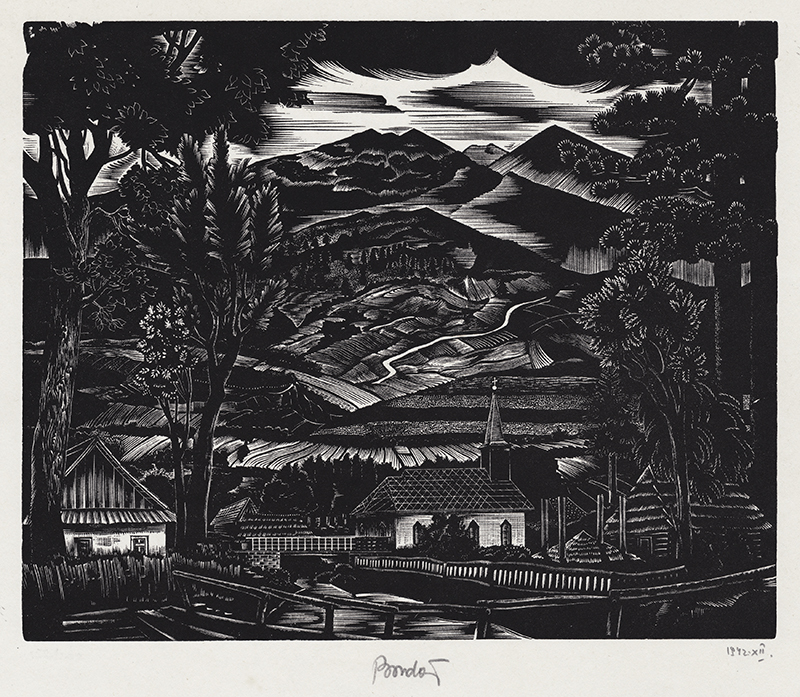 (Transylvanian town) - from the portfolio Erdelyi Album - Tizenkét eredeti fametszet (Transylvania Album - Twelve original woodcuts)
Ferenc Bordás
Please call us at 707-546-7352 to purchase this item.
Title
(Transylvanian town) - from the portfolio Erdelyi Album - Tizenkét eredeti fametszet (Transylvania Album - Twelve original woodcuts)
Artist
Year
1942
Technique
woodengraving
Image Size
7 11/16 x 9 7/16" image size
Signature
pencil, bottom center
Edition Size
proof, from outside the published edition of 250
Annotations
pencil dated 1942 XII (December)
Reference
Paper
antique-white wove
State
published 1943
Publisher
Kiralyi Egyetemi Nymoda (Royal University Press, Budapest)
Inventory ID
21719
Price
$250.00
Description
One of twelve images Bordas created for the artist's book "Erdelyi Album", a series of woodengravings illustrating the daily life of Transylvanians. Published in 1943, the album was dedicated to Gyula Ortutay, a Hungarian ethnographer and politician who served as Minister of Religion and Education during the Communist regime, between the years 1947 and 1950.
Ferenc Bordás was born in Temesvar, Hungary (now Timisoara, Romania) in 1911. He was a student of György Buday and Vilmos Aba-Novák at the Szeged Young People's College of Art, where he learned printmaking, specializing in woodcut. He went on to graphic design, and was known for his ex-libris for book collectors. Ferenc Bordás died in Budapest, Hungary in 1982.
Please call us at 707-546-7352 to purchase this item.