(Israeli village) by Noemi (Naomi) Schindler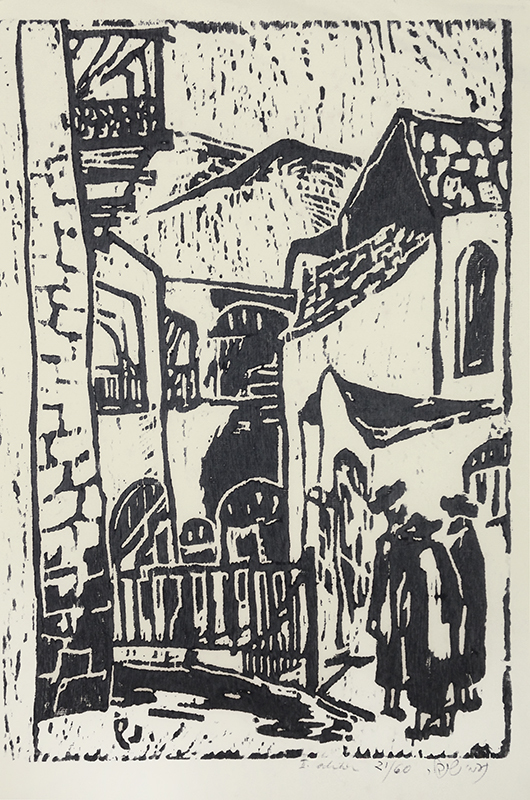 (Israeli village)
Noemi (Naomi) Schindler
Please call us at 707-546-7352 to purchase this item.
Title
Artist
Year
c. 1955
Technique
woodcut
Image Size
17 x 11 3/4" image size
Signature
pencil, lower right
Edition Size
21/60 (possibly from a second edition)
Annotations
pencil editioned as "II edition 21/60" ?
Reference
Paper
antique-white M.B.M. France laid
State
published
Publisher
artist
Inventory ID
21408
Price
$275.00
Description
Known primarily as a sculptor Israeli artist Noemi (Naomi) Schindler (1919-1991) was also an accomplished printmaker, working mostly with woodcut. She had emigrated to Israel from Berlin in 1936. In Israel she studied with Moshe Sternschuss, Yitzhak Danziger and Rudi Lehman. Schindler moved to Paris in 1965, where she continued her studies, and died there in 1991.
The subject of this expressionistic woodcut is a village in Israel, with 3 rabbis about to cross a bridge that spans a stream. The impression initialed "PJ" in the lower left image and is signed in pencil in Hebrew in the lower right margin.
Please call us at 707-546-7352 to purchase this item.