Caveau No. 6 by Pierre Joseph Witdoeck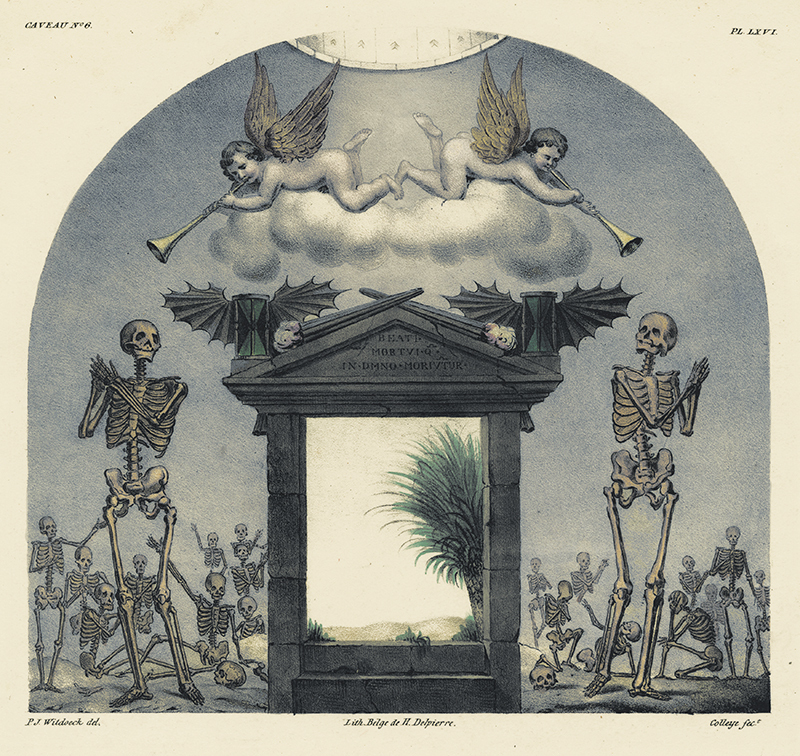 Caveau No. 6
Pierre Joseph Witdoeck
Please call us at 707-546-7352 to purchase this item.
Title
Artist
Year
c. 1830
Technique
hand-colored lithograph
Image Size
9 x 9 3/4" image size
Signature
inscribed, lower left
Edition Size
unstated
Annotations
"P.J. Witdoeck del." inscribed lower left; "Lith. Belge de H. Delpierre" inscribed, lower center; "Colleye fec." inscribed, lower right
Reference
Paper
smooth cream wove
State
published
Publisher
The Belgian Lithograph of H. Delpierre
Inventory ID
20713
Price
$275.00
Description
Pierre-Joseph Witdoeck's "Caveau No. 6" is a precursor to 19th century Symbolism and Victorian Gothic romanticism. Death, revitalization, and religious iconography are depicted in a decorative composition that might well have served as a sketch for a future crypt or other architectural shrine. Skeletons in tragic poses crowd the stormy background landscape and guard the entryway of a tomb, bedecked on either side by winged hourglasses. Angels trumpet above the opened crypt door, perhaps representing heaven. The unusual addition of an entryway opening onto a desert landscape may have been inspired by Witdoeck's extensive travels from his home in Belgium to Algeria, Egypt, and Greece. It appears, with the inclusion of a clear sky and crowding desert plantlife, that it is perhaps meant to be a peaceful destination rather than a dry and uninhabitable place of banishment.
Please call us at 707-546-7352 to purchase this item.