Untitled landscape by William Paul Morehouse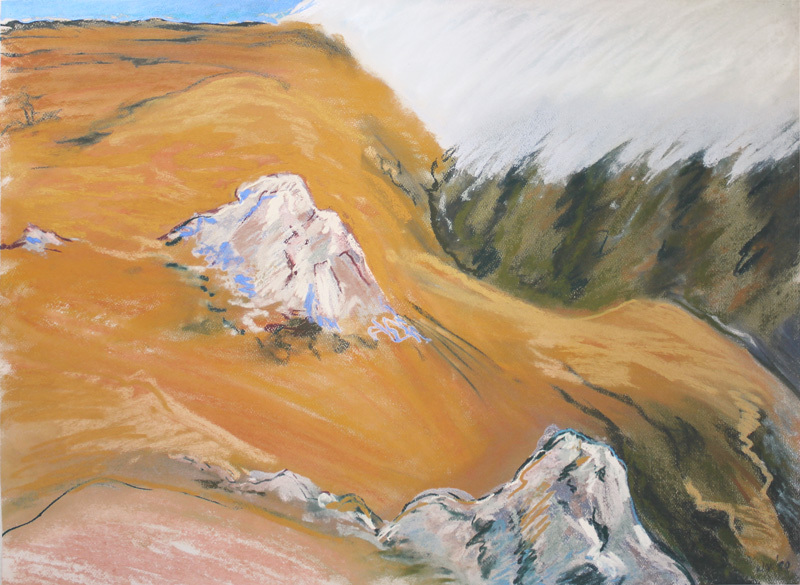 Untitled landscape
William Paul Morehouse
Please call us at 707-546-7352 to purchase this item.
Title
Artist
Year
1990
Technique
oil pastel on paper
Image Size
18 x 24" image and paper size
Signature
pencil, lower right, in image
Edition Size
1 of 1 unique
Annotations
pencil dated
Reference
Paper
textured wove
State
Publisher
Inventory ID
18695
Price
$2,000.00
Description
By the late 1980s, bicoastal artist William Paul Morehouse had settled in Sonoma County, California, where he had a studio in Bodega Bay. Much of his work from this time reflects a deep appreciation for the seasonal changes of the coastal prairie, as seen in this image of a golden-hued precipice overlooking a copse of redwoods, a familiar sight along the arterial roads connecting to Highway 1 which runs parallel to the Pacific Ocean.
A small sliver of blue sky in the far distance belies what had been a bright summer day, now overtaken by the formidable shroud of northern California fog. The viewer might be able to imagine the smell of dusty, sunwarmed grasses, mingling with the cool onshore fog whose billowing form carries the blue-green scent of the sea.
Please call us at 707-546-7352 to purchase this item.