Isola Bella and Naiads by Albert Decaris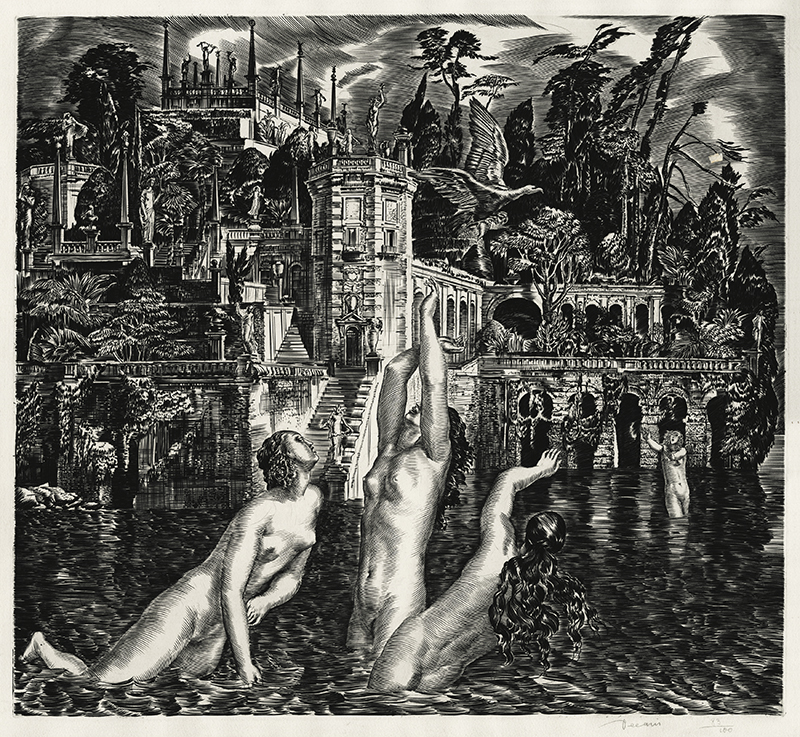 Isola Bella and Naiads
Albert Decaris
Please call us at 707-546-7352 to purchase this item.
Title
Artist
Year
c. 1930
Technique
engraving
Image Size
17 1/2 x 19 7/16" platemark
Signature
pencil, lower right
Edition Size
83 of 100
Annotations
pencil editioned
Reference
Boussard-Decaris 842; illustrated on page 280
Paper
antique-white MV France wove with watermark
State
published
Publisher
artist
Inventory ID
17440
Price
$2,000.00
Description
Albert Decaris valued the precision and minute detail achieved with steel plates, and he was most known for his commissioned work on books, stamps, and views of various cities.
This depiction of the palatial estate of Carlo III on the Italian island of Isola Bella steps outside of this more formal realm, and is given a surreal mythological air by the central focus: four nymphs (Naiads) dancing in the water that envelopes the palace garden.
The gardens were designed by Angelo Crivelli and the palace, which was dedicated to Carlo III's wife Isabella D'Adda (hence the island's name) but was not finished because of the plague. The house and garden were finished in 1671 by Carlo IV.
Please call us at 707-546-7352 to purchase this item.