The Golden Cockerel Rubaiyat of Omar Khayyam, plate 6 (of 8) by John Buckland Wright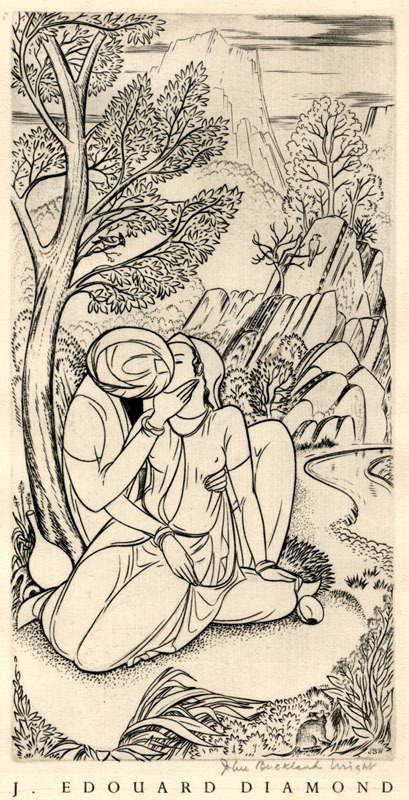 The Golden Cockerel Rubaiyat of Omar Khayyam, plate 6 (of 8)
John Buckland Wright
Please call us at 707-546-7352 to purchase this item.
Title
The Golden Cockerel Rubaiyat of Omar Khayyam, plate 6 (of 8)
Artist
Year
1937 /8
Technique
copper engraving
Image Size
8 1/8 x 4 3/16" platemark
Signature
pencil, lower right; initialled in plate, lower right image
Edition Size
proof outside book edition of 30 signed & numbered and editon of 270
Annotations
printed in lower margin: J. Edouard Diamond
Reference
Buckland Wright A28
Paper
cream laid
State
proof from published state
Publisher
Golden Cockerel Press
Inventory ID
16893
Price
$450.00
Description
Buckland Wright did a series of 8 copper engravings to illustrate the Golden Cockerel Press publication of Omar Khayyam's Rubaiyat, published in a total edition of 300 in 1938, This is a unique proof from the collection of J. Edouard Diamond with his name typeset in the lower margin. Elizabeth and J. Edouard Diamond were Cleveland collectors who collected ex-libis plates by noted printmakers of the 30's. This proof is signed by Wright and may have been reproduced as an ex-libris by Diamond.
Please call us at 707-546-7352 to purchase this item.