Viticulture (Plowing the vineyard) by Alfred Gaspart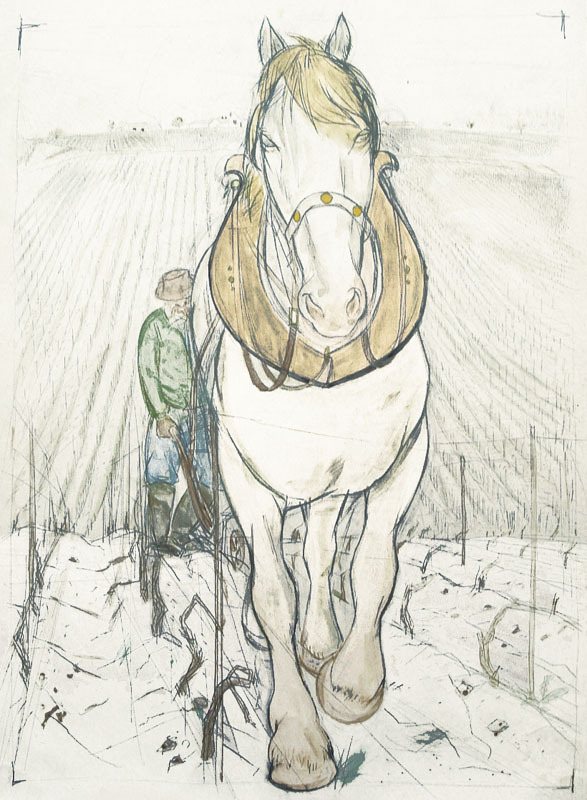 Viticulture (Plowing the vineyard)
Alfred Gaspart
Please call us at 707-546-7352 to purchase this item.
Title
Viticulture (Plowing the vineyard)
Artist
Year
c. 1935
Technique
pencil drawing with watercolor
Image Size
15 3/4 x 11 1/2" image
Signature
blue ink stamp monogram on verso
Edition Size
1 of 1 unique
Annotations
annotations in French in upper margins
Reference
Paper
antique-white wove, mounted to linen
State
Publisher
Inventory ID
16684
Price
$1,200.00
Description
From September of 1935 through 1936 he spent time in Beaune, Burgundy chronicling the wine making of the region. A book of photographs from this time, "Alfred Gaspart: One Year in the Vineyard, Photographs 1936; Jean-Michel Place, 2006" is accompanied by a series of letters to his sister about the experience: the weather, fears of bad harvests, the care of the vineyards and the production of the wine.
This drawing, one of a series about the grape harvest, may have been preparatory for a mural that never materialized. This image depicts a vineyard worker plowing with a draft horse.
Please call us at 707-546-7352 to purchase this item.