Femme Endormie (Sleeping Woman) by Johnny Friedlaender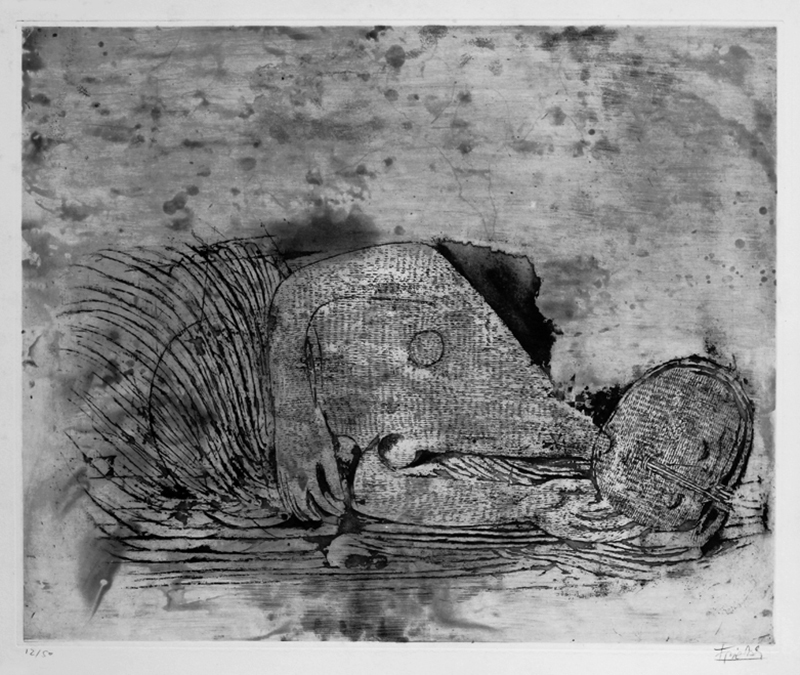 Femme Endormie (Sleeping Woman)
Johnny Friedlaender
Please call us at 707-546-7352 to purchase this item.
Title
Femme Endormie (Sleeping Woman)
Artist
Year
1956
Technique
etching, printed chine colle
Image Size
17 5/8 x 21 1/2" platemark
Signature
pencil, lower right
Edition Size
12 of 50
Annotations
editioned; publisher's label on verso
Reference
Schmucking 153
Paper
Rives BFK
State
published
Publisher
L'Oeuvre Gravee, Paris; their blindstamp in lower left corner of the paper
Inventory ID
14236
Price
$1,000.00
Description
'Femme Endormie' (Sleeping Woman) was done early in Friedlaender's career and was printed "chine collé" (a thin sheet of Asian paper collaged to a heavier support sheet). It was published by the L'Oeuvre Graveé of Paris and Zurich and is one of his last figurative prints, by 1957 his work became almost completely abstract and was printed using color.
Friedlaender learned printmaking from Otto Mueller in Breslau. He and his young wife fled the Nazi regime in 1937 settling in Paris as political refugees. In 1938 and 1939, Friedlaender worked at the literary weekly magazine Marianne on Paul Chadourne's recommendation. From 1939 to 1943 he was interned in a series of concentration camps. After the war, the Friedlaenders returned to Paris in 1945, in 1947 he became a member of the Salon de Mai, and in 1950 he became a French citizen.
Please call us at 707-546-7352 to purchase this item.