Gustave Baumann
Catalogue Raisonne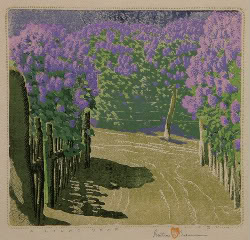 Gala Chamberlain has been working on the catalogue raisonne of Gustave Baumann's color woodcuts and ephemeral work for twelve years. The research is complete and we are at the editing and essay writing stages.

Baumann printed, published and sold his own work over the decades. Variations and exceptions always seem to come to light and we intend to continue gathering information.

The catalogue raisonne will provide alternate titles, edition information, exhibition records, references, public collections and anecdotal references to the location or subject matter of the individual works.

We still actively search for information on Baumann's woodcuts, etchings, books, and ephemeral items. Important information on his color woodcuts would be the titles with the corresponding edition numbers, including Roman numerals, R.C. or dates. We are also interested to learn about the paper that individual impressions are printed on (e.g. cream laid with the Hand-in-Heart watermark or the Bergisch Gladbach watermark, cream wove with the Japan Paper Company watermark, ivory laid Fabriano with the Ciconia watermark, etc.).

If you believe that you might have a rare impression or a rare piece of ephemera, please let us hear from you.

Often an individual impression has an annotation that would make an interesting anecdote. Baumann occasionally dedicated his work to people and often the date followed the dedication.

Data has been gathered from disparate sources and it is our hope that it will gel into an interesting and informative catalogue raisonne.