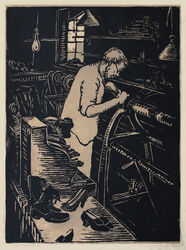 Eliza Draper Gardiner was a painter and printmaker. She studied at the Rhode Island School of Design and in Europe. She was active in the Provincetown Art Association, Print Makers Society of California, Providence Watercolor Club, American Color Print Society and the Philadelphia Woodcut Society.
Gardiner's specialty was color woodcuts of children. Gardiner taught woodcut, watercolor and drawing for thirty-one years at the Rhode Island School of Design, Providence, beginning in 1908. She was also adept at lithography and worked with George Miller to produce a series of 10 lithographs in 1932.
She was a member of the Massachusetts graphic arts group, the Provincetown Printmakers. A publication about the artist's work, containing reproductions and biographical material, Eliza Draper Gardiner: Master of the Color Woodblock, was published in 1987 by the Newport Art Museum, Rhode Island.
Her work is represented in the Detroit Institute of Art, Bibliotheque Nationale, Rhode Island School of Design, and the Philbrook Art Center.