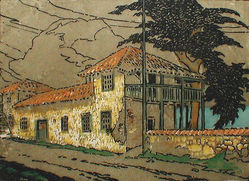 Pedro Joseph de Lemos (1882-1954) is known as a painter, printmaker, architect, illustrator, writer, lecturer and museum director but he was also an influential theorist and educator. He was born in Austin, Nevada on May 25, 1882, however Lemos grew up in Oakland, California and began his art studies in the Bay Area. In 1900 he was a pupil of Arthur Matthews at the Mark Hopkins Institute and continued his studies as a student of George Bridgman at the Art Students League in New York and Arthur Wesley Dow at Columbia University Teachers College.
Returning to Oakland, Lemos set up his studio overlooking Lake Merritt and began teaching at U.C. Berkeley. He also worked as an illustrator and designer and began teaching classes in decorative design and etching at the San Francisco Institute of Art, formerly the Mark Hopkins Institute, in 1911. Lemos was a founding member of the California Society of Etchers and one of his prints won honorable mention at the Panama-Pacific International Exposition in 1915, for which he was chief organizer of the California print exhibition. He was Professor of Design at Stanford University and was appointed director of the Stanford Museum of Art in 1919. Lemos was editor of School Arts Magazine and produced a series of folios based on his theories of design entitledApplied Art as well as authoring about fifty books on arts and crafts.
First president of the Carmel Art Association, Lemos was also affiliated with other art organizations including the California Society of Etchers, the California Print Makers, the Palo Alto Art Associations, the Chicago Society of Etchers and the Bohemian Club. His influence was widespread and his achievements were honored in 1943 by his induction as fellow of the Royal Society of Art in London.