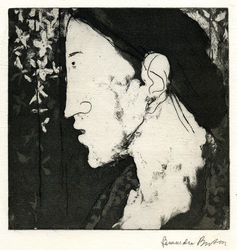 Bernarda Bryson was born in Athens, Ohio in 1903. From her family, she inherited both an interest in writing (her father owned The Athens Morning Journal) and the progressive social conscience that informed much of her work (her maternal grandfather's home had been a stop on the underground railroad). She studied printmaking at several schools, including Ohio University, Ohio State and the Cleveland School of Art.
After an early marriage that ended in divorce, she went to work as a newspaper journalist. In 1933, she went to New York to interview the muralist Diego Rivera. There, she met Rivera's assistant, Ben Shahn (09/12/1898 – 03/14/1969) , who became her mate (they married shortly before Shahn's death). In the mid-1930's, the couple drove across the country, documenting rural life for the Resettlement Administration. Bernarda Shahn's series of lithographs from that trip was published in 1995 as The Vanishing American Frontier. She collaborated with her husband on two of his New Deal-era murals, one in what is now the Roosevelt Public School in Roosevelt, N.J., and the other in the Bronx General Post Office. Both still exist.
In midcareer, Bernarda Shahn turned primarily to illustration. She wrote and illustrated several children's books, including The Zoo of Zeus (1964) and Gilgamesh (1967). She also wrote a 1972 monograph on Ben Shahn's work. She died 12/12/04 in Monmouth, NJ at 101.