English mezzotint engraver Richard Earlom, was born and died in London. His natural faculty for art appears to have been first called into exercise by admiration for the lord mayors state coach, just decorated by Cipriani. He tried to copy the paintings, and was sent to study under Cipriani. He displayed great skill as a draughtsman, and at the same time acquired without assistance the art of engraving in mezzotint.
In 1765 he was employed~by Alderman Boydell, then one of the most liberal promoters of the fine arts, to make a series of drawings from the pictures at Houghton Hall; and these he afterwards engraved in mezzotint. His most perfect works as engraver are perhaps the fruit and flower pieces after the Dutch artists Van Os and Van Huysum.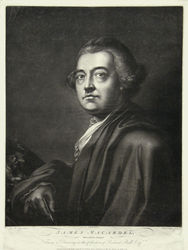 Amongst his historical and figure subjects are Agrippina, after West; Love in Bondage, after Guido Reni; the Royal Academy, the Embassy of Hyderbeck to meet Lord Cornwallis, and a Tiger Hunt, the last three after Zoffany; and Lord Heathfield, after Sir Joshua Reynolds. Earlom also executed a series of 200 facsimiles of the drawings and sketches of Claude Lorraine, which was published in 3 vols. folio, under the title of Liber veritatis (1777-1819).