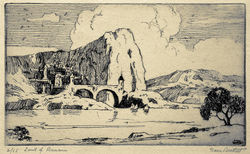 A painter, printmaker, teacher, and gallery owner, Dana Bartlett was born in Ionia, Michigan. He studied at the Art Students' League and with William M. Chase in New York and Coussens in Paris.
Bartlett had a studio for a few years in Boston. He then moved to Portland, OR where he worked as a commercial artist for the Foster-Kleiser Company. About 1915 he briefly had a studio in San Francisco.
Bartlett moved to Los Angeles in 1915 and opened his studio there. In 1924 he joined the staff of the Chouinard Art Institute. He was a member of the Print Makers Society of California and the California Arts Club. He exhibited at the Stendall Gallery in Los Angeles and the Los Angeles Museum of Art.
His work is represented in he Sacramento State Library, Los Angeles Museum of Art, Southwest Museum, Los Angeles Public Library and the Boston Public Library.