Trocadero (a.k.a. Echafaudage; Front Populaire or The Pier) by Roger Vieillard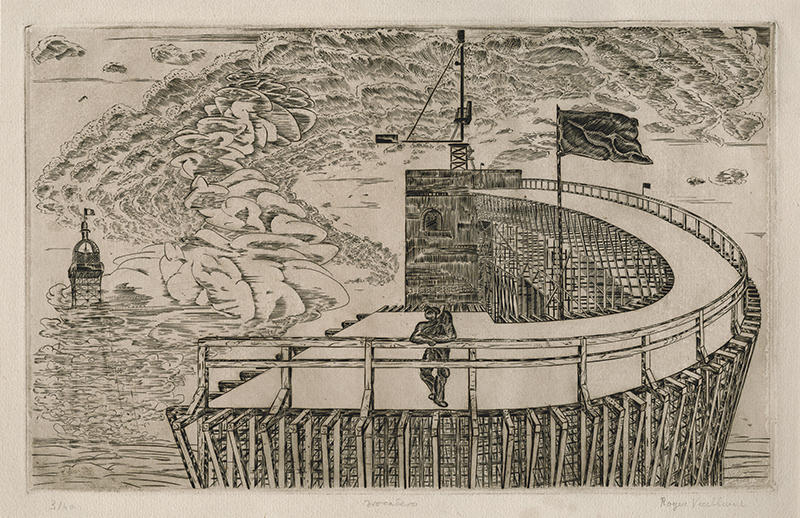 Trocadero (a.k.a. Echafaudage; Front Populaire or The Pier)
Roger Vieillard
Please call us at 707-546-7352 to purchase this item.
Title
Trocadero (a.k.a. Echafaudage; Front Populaire or The Pier)
Artist
Year
1936
Technique
engraving
Image Size
9 3/8 x 14 7/8" platemark
Signature
pencil, lower right
Edition Size
3 of 40
Annotations
pencil titled
Reference
Hacker 24; Austin/Desmond catalogue 101
Paper
buff Montval laid, with watermark
State
published
Publisher
artist, at Atelier 17
Inventory ID
16207
Price
$3,500.00
Description
This important, rare Surrealist engraving was done by Vieillard while working at Atelier 17 in Paris in the 1930s. Though not an official member of the Surrealists Vieillard knew many of them, including S. W. Hayter and was influenced by a number of their ideas.
Vieillard's work was represented in the important 1944 exhibition at The Museum of Modern Art in New York titled Hayter and Studio 17 which included 60 prints by 32 artists from 12 nations.
In this image, a single figure stands on the concert hall during its demolition. The Eiffel Tower rises out of the clouds in the distance. In 1937 the concert hall was replaced by the Palais de Chaillot.
The Palais du Trocadero was built in Paris in 1878 to commemorate the 1823 battle in which France helped restore the throne to King Ferdinand VII of Spain.
Please call us at 707-546-7352 to purchase this item.